Now that the elections are over, the time has come for us to take stock and look back at what has happened over the past two weeks. The biggest winner in this election has got to be the Workers' Party. With its slate of young, talented and charismatic candidates, the WP has managed to capture the imagination of all Singaporeans - and the hearts and minds of at least 1 in 3 of the electorate. The WP has shown itself to be pro-Singapore, and not anti-PAP. It has spoken up for the lowest-income group of Singaporeans, and has also earned plaudits from the disenfranchised intelligentsia. Above all, its candidates have conducted themselves with dignity and class, a marked departure from the usual Opposition candidates, and even more tellingly, from the ruling PAP. In the face of intense character assassination tactics, they have stood firm, refusing to wilt, and at the same time refusing to get dragged down into a mudslinging contest.
Sylvia Lim has modestly admitted that the WP is not yet a 'first world opposition party'. Low Thia Khiang, at his rallies, introduced the Aljunied candidates by saying acknowledging his personal shortcomings, and indicating that his charges would be able to do a better job than he. He also paid respects to the late President Ong Teng Cheong, and even to the PAP's Lee Kuan Yew, calling on voters not to disappoint him, and help him achieve his vision of a more open and inclusive society. Low also mentioned that all the candidates, including the WP, were prepared to lose, and that they would not have joined the party if this was not the case. During their final rally at Serangoon Stadium, all the WP candidates stood together in a show of solidarity and patriotism, and recited the pledge. 50,000 supporters spontaneously recited along with them in unison. Ironically, the pledge was penned by one of the PAP's founding fathers, S. Rajaratnam - reciting it made many people realise just how far the PAP has departed from the principles it embodies, in particular, that of a 'democratic society, based on justice and equality, so as to achieve happiness, prosperity and progress for our nation'. Candidate Chia Ti Lik also tugged at our heartstrings when he chastised the Government for forgetting that 'one of the stars on our flag stands for equality'.
Perhaps the biggest symbol of their intent, however, was the fielding of a team comprising completely of first-time candidates, with absolutely no election experience under their belts, and with an average age of 32 despite the inclusion of 52-year-old Gopal Krishnan, in the Prime Minister's own 6-member constituency. Critics had written this team off as the 'Suicide Six', with the Prime Minister himself stating that he would like to 'ensure that this costs them some money' (referring to their $13,500 election deposits) and PAP Chairman Lim Boon Heng boldly asserting that the Prime Minister would be returned with an 85% majority. Undaunted and unfazed, the 'Suicide Six' worked hard to canvass for support, visiting residents door-to-door, and presenting their campaign material to heartlanders in the coffee shops.
Low Thia Khiang praised them during one of his speeches, remarking that 'gan si hao guo pa si' (daring to die is better than being afraid to die) - a pointed barb at the anonymous PAP candidates who were seeking election, some through walkover, to Parliament on the back of the cabinet ministers who were anchoring their GRC teams. To me, this point was especially pertinent given that most Singaporeans are unwilling to do anything about their lives even if they are unhappy; we are a nation afflicted with numbing apathy, resistance to change, and a dreadful paucity of passion, idealism and conviction. Despite the fact that they were up against such formidable opposition, and received almost no press coverage in their attempt to do so, the 'Suicide Six' garnered one-third of the votes in Ang Mo Kio. This was the lowest percentage of votes ever garnered by a Prime Minister in his own constituency in recorded history.
The dedication, courage and conviction displayed by the WP candidates in this election has certainly won many voters over. The PAP has experienced a sharp fall in its percentage of votes, with its majorities being reduced in every single constituency contested. Sylvia Lim has been the embodiment of class and dignity, remaining concentrated on bread-and-butter issues and retaining the moral high ground despite the seasoned PAP ministers harping on ad nauseam about the James Gomez non-incident and questioning the integrity of the Opposition. They have won many people over in a very short span of time, and there is no doubt that they will continue to win people over if they continue with their present approach. They have started to fan the winds of change in a nation amongst whose citizens politics, especially opposition politics, is seen as taboo, with tens of thousands of fervent supporters attending their rallies and night after night. Never since the days of the old Malaysia Cup has anything been able to unite so many people. They have made many people, including this writer, proud to be Singaporean, when previously they did not know how it felt to be so.
They have showed us the meaning of courage - that it is not in fact the absence of fear, but the will to act in spite of it.

There are indeed times when defeat tastes sweeter than victory.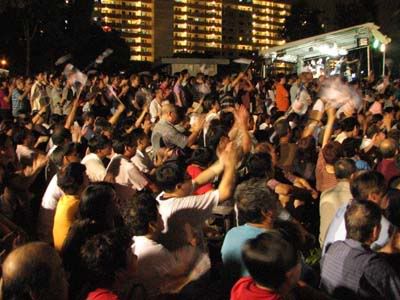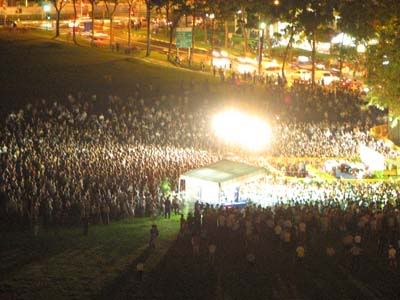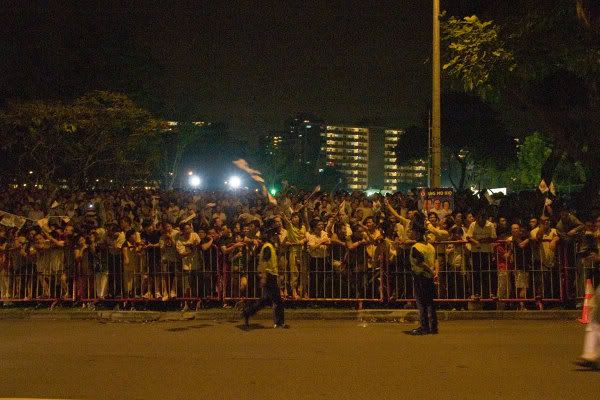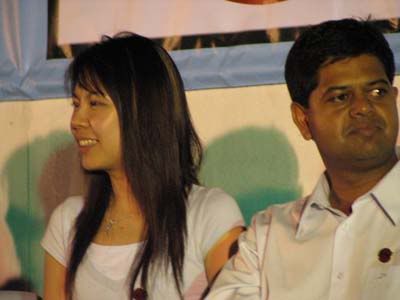 This song is dedicated to all Singaporeans and candidates of all political parties who want to shape a better future for our nation. Thank you for your perseverence and dedication - congratulations to those who won and condolences to those who lost. For anyone and everyone who cares about Singapore, stay the course and don't give up, because there will be light at the end of the tunnel.
Do you hear the people sing
Lost in the valley of the night?
It is the music of a people
Who are climbing to the light.
For the wretched of the earth
There is a flame that never dies.
Even the darkest night will end
And the sun will rise.
They will live again in freedom
In the garden of the Lord.
They will walk behind the plough-share,
They will put away the sword.
The chain will be broken
And all men will have their reward.
Will you join in our crusade?
Who will be strong and stand with me?
Somewhere beyond the barricade
Is there a world you long to see?
Do you hear the people sing?
Say, do you hear the distant drums?
It is the future that they bring
When tomorrow comes!
--Finale from
Les Miserables