Please take a moment and consider signing the petition....
http://www.petitiononline.com/TCaction/petition.html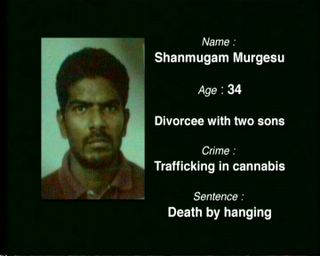 Fri 6th May Candlelit Vigil for Shanmugam Murugesu
--------------------------------------------
NOTE FINAL VENUE:
Furama City Centre Hotel,
Canton Room, Level 4,
60 Eu Tong Sen Street, Singapore 059804.
Time: 7 - 10 pm


Dear all,

Singapore's President has rejected a clemency appeal for 38 year old Singaporean Shanmugam Murugesu. He was convicted of cannabis trafficking. Singapore does not set dates for executions, although they are usually carried out on Fridays at dawn. Shanmugam is due to be hanged in the next week or so.

Proponents of Singapore's tough laws against drug trafficking often claim that sending convicted traffickers to the gallows will act as an effective deterrent because drug abuse destroy lives and families,

Fact #1 : Drug abuse is not the only social ill that destroy lives. Addiction to smoking, gambling and alcohol kill as many, if not more, people in Singapore than drug abuse. Should we also prosecute and hang directors of tobaccco companies, casino operators and alcohol maufacturers?

Fact #2 : Drug couriers like Shanmugum often take on such jobs because of economic hardship. Syndicates who want to ship drugs into Singapore often use decoys to distract the police. Shanmugum was likely deployed as such a decoy. At the time when Shanmugum was caught at the causeway, there may have been 4 or 5 more other couriers who had escaped the custom. This is one way in which drugs continue to flow into Singapore.

Fact #3 : Despite the use of the death penalty as a deterrent to would-be-criminals, prison population in Singapore is one of the highest in the world. "Singapore locks away more people than over half the nations of the world, a British survey on prison population shows. For every 100,000 people, 359 are in prison - above the sum total of Cambodia (46), Malaysia (121), Brunei (120) and Indonesia (29). It also exceeds those in developed countries such as Japan (48), France (85), Britain (139) and Australia (116)." (Straits Times, 31 March 2003)

Fact #4 : While we hang small-time drug couriers, the Singapore Government invests in companies owned by Burma's most notorious druglord, Lo Hsing Han.

Burma-Singapore Axis: Globalising the Heroin Trade

Singapore's blood money :
Hanging drug couriers but investing with their suppliers

Fact #5 : Currently, more than 100 countries have abolished the death penalty either in practice or in law. Singapore is one of 25 countries that are still carrying out executions. Not only that, we have the highest per capita rate of executions in the world.
Singapore: High execution rate shrouded in secrecy
http://web.amnesty.org/library/Index/ENGASA360022004?open&of=ENG-SGP
http://www.amnestyusa.org/abolish/document.do?id=AA4D3A610F648A3E80256F400047A922

Fact #6 : There is a lack of safeguards in the judicial system to ensure that no innocent men or women should be executed. In an exchange during the final appeal of Malaysian trafficker Vignes Mourthi, when asked by the defence counsel if the public prosecutor was still maintaining that an innocent person be hanged because of legal procedure, Chief Justice Yong Pung How replied, "Yes. The answer is yes." (Today, 27 Sept 2003)

******************************

Men and women are being killed by our Government because the Government says it is good for the rest of us. As Singaporeans or permanent residents who live, work and contribute to the very system that supports this killing, we need to take on more a more active role in promoting, at the very least, a more open debate on the issue of the death penalty.

Singaporeans to gather for Shanmugam Murugesu

Think Centre, with the support of concerned members of civil society and the arts community, is organising a candlelight vigil for Shanmugam Murugesu. He is expected to be hanged on the morning of this day. The evening will involve a series of candlelit music, performances and readings by concerned, non-partisan individuals as an expression of our 3C's:"Compassion", "Care", & "Concern" .

Fri 6th May 2005
Time: 7 – 10 pm
Venue: The Substation arts centre garden,
45 Armenian Street
(Back Entrance by old National Library carpark)

Please come and participate. Admission is free.

This event will hopefully be the start of a public awareness campiagn to get Singaporeans to talk openly about the pros and cons of capital punishment in their country.